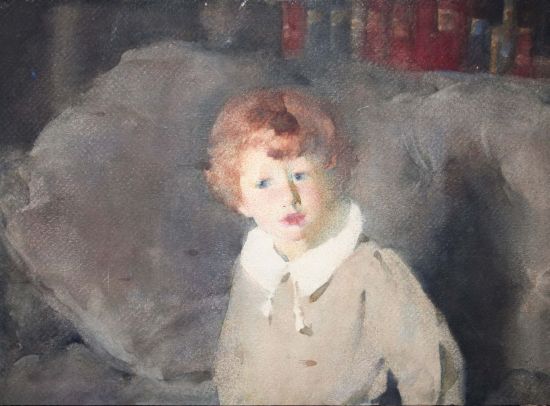 Hilda Belcher
(American, 1881-1963)
Study for "Listening"
Inscribed on the reverse
Watercolor on paperboard
11-3/8 x 15-1/2 inches
Note:
In 1911, Mrs. Gorham Bacon Harper commissioned a portrait of her son. Another version was included in the American Watercolor Society exhibition, May 1912. In the Vermont Historical Society exhibition listed below, this work was displayed on an easel at the entrance to the show.
Provenance:
Descended in the artist's family to the current owners
Exhibited:
Montpelier, Vermont Historical Society Museum, The Paintings of Martha Wood Belcher and Hilda Belcher, March 9 – August 22, 1993, no. 63 (as Listening – Preliminary Study)
Burlington, Robert Hull Fleming Museum, Hilda Belcher: A Retrospective, June 26 - October 2, 1994
Click here to view more works by Hilda Belcher